Federal criminal appeals attorneys
ready to fight for your freedom
Have you or a loved one been wrongfully convicted? Was the sentence of you or a loved one harsher than it should have been? Does freedom seem next to impossible? Are you losing hope? Don't. Our federal criminal appeals lawyers have helped many people in the same situation regain their freedom and get a second chance at life.
Don't waste time. It's important that we meet every deadline and have time to prepare.
---
Want to understand the process of appealing your case?
Our new book is called "Reversing Your Criminal Conviction", and it covers important details and strategies for appealing your criminal conviction.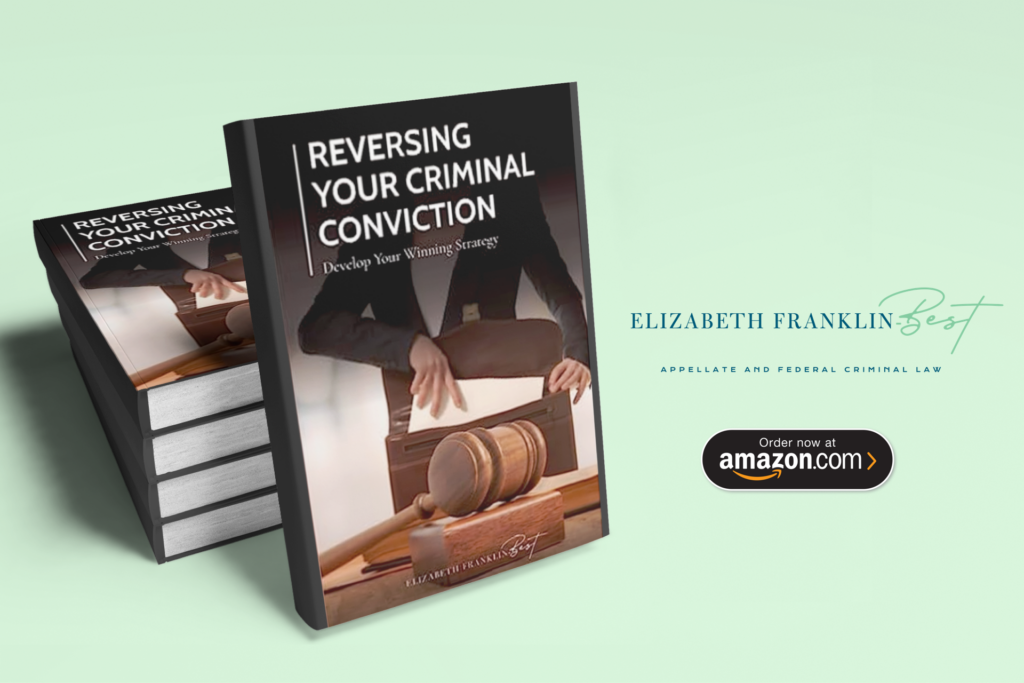 In 2008, I was convicted of homicide by child abuse and sentenced to 35 years in prison. My case ended up in the appellate defense office. I felt so hopeless at that time. It was only 2008, and my release date wasn't until 2039.
Mrs. Best kept in constant contact with me through letters and was very encouraging when I spoke with her on the phone while in prison at Camille Griffin Graham in South Carolina…
I have been free since 2013. If it wasn't for her and her hard work there's no way I would be out of prison right now. The Court finally reversed my conviction in 2013…
I repeat the supreme Court let me go!!!! I thank God for her if you're looking for someone that's truly going to fight for you, I would highly recommend Mrs. Best you will not be disappointed if you don't believe this, please look my name up I'm in the wrongfully convicted database.
God used her to help me, and I am forever grateful! Mrs. Best, thank you!!!!! You will be forever in my heart I'll never forget you!
Paris Avery
Our track record in the United States Federal Court of Appeals
speaks for itself
START YOUR APPEAL
Shealey Law Firm
I can't recommend Besty highly enough! She is the go-to appellate lawyer in the State of South Carolina and whenever I can refer her a client I will because I know they will be in trusted hands.
Tameisha Thomas
I would like to say that so far this has been the best interaction with an attorney's office. The communication is seamless and there is always someone available to answer questions when they arise.
leah Klecko
Elizabeth Franklin-Best has a passion for her work, knowledge of the law, compassion for her clients, she listens, and has effective writing skills! She is reasonably priced and she truly fights for you!!
John Brannon
When I hired Elizabeth Franklin-Best I received the best experience I've ever had with an attorney. Her genuineness, professionalism ,and legal expertise is unrivaled.
Jimmy Crowe
Nothing in the court of law is guaranteed in today's court systems but if you need a firm that will fight for you and knows the system and the laws then Elizabeth Franklin Best and her team is who you need to hire.
Gaddafi Odutola
Her office is very professional and Rebecca was very energetic during our conversation. The consultation went great with my relative and he's in great spirits and looking forward to being home very soon!!
Heaven Sent
When I hired Elizabeth Franklin-Best I received the best experience I've ever had with an attorney. Her genuineness, professionalism ,and legal expertise is unrivaled. She and her team showed a genuine concern with our case and
Tyler Hoover
Elizabeth and her staff are absolutely the best in the business, I would not hesitate to recommend her to anyone looking for help with a conviction.
Cases We Handle
What type of federal conviction are you trying to appeal?
We Help Wrongfully And Harshly Convicted
Clients Appeal Federal Convictions
United States Federal Court of Appeals
United States Court of Appeals for the Second Circuit

United States Court of Appeals for the Third Circuit

United States Court of Appeals for the Fourth Circuit

United States Court of Appeals for the Fifth Circuit

United States Court of Appeals for the Sixth Circuit

United States Court of Appeals for the Seventh Circuit

United States Court of Appeals for the Eighth Circuit

United States Court of Appeals for the Ninth Circuit

United States Court of Appeals for the Tenth Circuit

United States Court of Appeals for the Eleventh Circuit

The United States Supreme Court

United States Court of Appeals District of Columbia Circuit
Federal District Courts in all US States
East Coast
Midwest
West Coast