If you have been convicted of a federal crime after trial, or you pleaded guilty but received a sentence that was too high – you may need to appeal your case. to the Ninth Circuit Court of Appeals. There are many reasons to consider an appeal, including:
Inadequate representation by your trial lawyer;
Improper admission of evidence at trial;
Incorrect or illegal application of the law by the judge;
Unfair conduct in the courtroom;
Prosecutorial misconduct;
Juror misconduct.
The Ninth Circuit Court of Appeals is the federal court which hears appeals from convicted individuals who have been found guilty in the Federal District Courts of Alaska, California, Guam, Hawaii, Idaho, Montana, Nevada, Mariana Islands, Oregon, and Washington.
If you were convicted of a federal crime in a Federal District Court of one of these ten states listed above, you can appeal your case to the Ninth Circuit Court of Appeals.
Unlike a trial lawyer an appeals lawyer does not present new evidence or witnesses to a jury. An appeal is not a retrial. It is a formal review of the lower court's decision. In simpler terms, a higher court is reviewing the decision made by a lower court to ensure the trial was conducted fairly and according to federal law.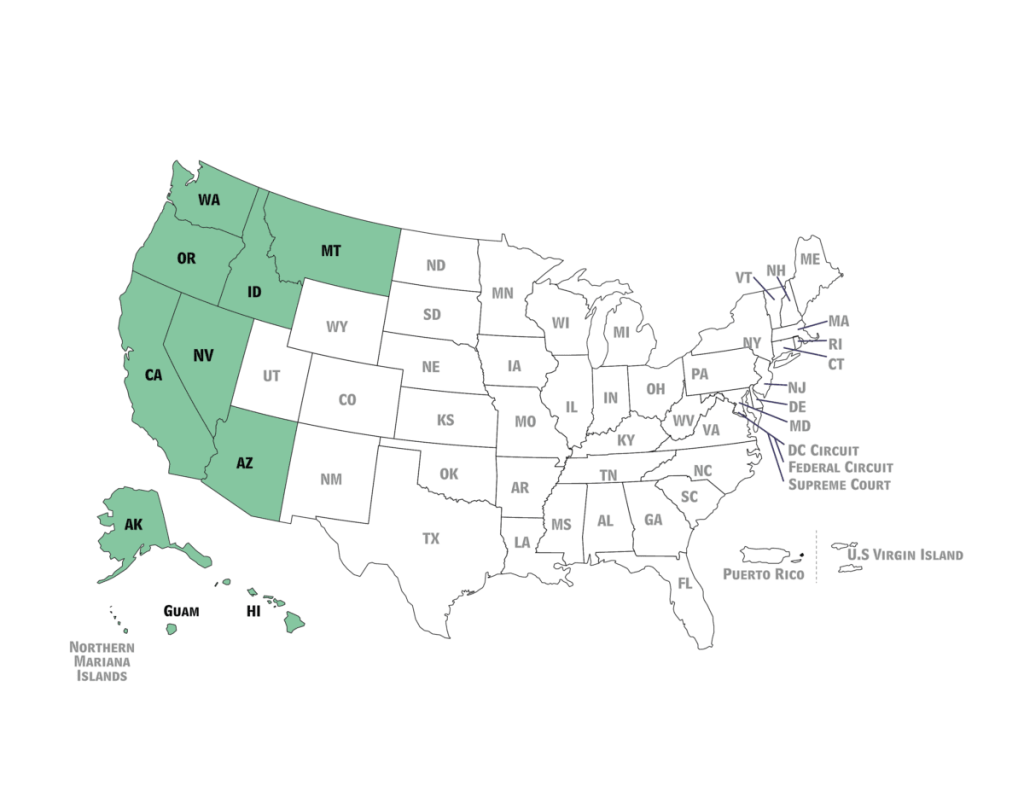 When should I appeal my case if I was convicted of a federal crime?
If you have been found guilty of a federal crime, you must file official notice of your intent to appeal your conviction within 14 days of conviction.
In order to best assist you with your appeal, it's essential to call us for a consultation as soon as possible, so we can review all the relevant documents in your case, including transcripts, witness testimonies, and evidence. Our job as your appeals attorney is to look for errors that can reverse your conviction or change your sentence, and help you understand the possible outcomes of challenging your case.
How will a Ninth Circuit Court Appellate Attorney help me appeal my case?
Appealing a federal conviction is a formal and complex process with intricate rules that must be followed to the letter. Our primary role as your appeals lawyer is to ensure your case moves through these proceedings correctly, while leveraging our decades of deep experience to ensure the best possible outcome for your appeal.
After reviewing your entire trial record and exploring all possible claims in great detail, we will advise you on options and pathways for the appeal. Our next step on your behalf is one of the most crucial steps of the entire appeals process – preparing the appellate brief.

This brief is critical to setting the foundation for all future proceedings to follow since it gives us an opportunity to reframe your case in the way that is most beneficial to you. It's our chance to make clear to the Court of Appeals why your conviction is illegal and unfair.
Not all appeals involve oral arguments, but when granted by the Court, we will also represent you and argue your case to the panel of appellate court judges who are charged with hearing and judging the merits of our appeal.
It's important to remember that appellate law is a specialty field, and very different from trial work. This means the trial lawyer who assisted you with your case in court may not have the expertise to handle your appeal. A great appellate lawyer will be honest and clear about your options, and will guide you through the entire appeals process, including any future appeals which may be presented to the United States Supreme Court.