Goodwin v. Metts, 885 F.2d 157 (4th Cir. 1989), cert denied 494 U.S. 1081.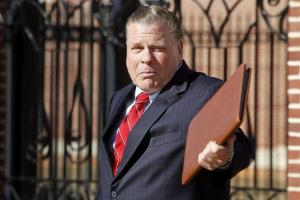 An oldie but goody!
This case is notable for the simple reason that it's out of Lexington County where these sorts of things seem to happen more frequently than elsewhere. Interestingly, though, in this case, the elected Solicitor, Donnie Myers, did NOT prosecute the case because he perceived it as weak. However, that didn't stop a private prosecutor from going forward. Here are the facts:
Officer Maxwell and Sheriff Metts were found guilty of malicious prosecution (mal pros) after trial. They appealed.
Two defendants, G and H were arrested in connection with a burglary of their employer's house. Key witness in the case was "Nelson"–someone determined to have provided both a false name and address to Maxwell. Maxwell apparently did not find this problematic. Then, in connection with some additional burglaries, "Stafford" confessed to this crime, among others, to Maxwell. Maxwell apparently did not find this problematic for his case, either. Solicitor Myers told his office not to prosecute the case because it was weak. He had not been made aware of the Stafford confession. The victim, however, enlisted a private attorney to conduct the prosecution of G and H. Maxwell did NOT provide Stafford's confession to either Solicitor Myers or the private prosecutor (a clear Brady violation) Unsurprisingly, the jury acquitted G and H. After trial on the mal pros claims, a civil rights jury awarded $60K to G; $90K to H; and punitive damages in the amount of $175,000 against Maxwell.
The Fourth Circuit essentially held that Maxwell was attempting to re-try the facts of the case on appeal which they cannot do. The court held that, under South Carolina law, liability for mal pros arises from wrongful institution or continuation of proceedings (Maxwell had argued as a defense that he lacked the ability to nolle pros the case once it started). Maxwell also urged that G and H weren't really "harmed" since they were out on bond. The Court rejected that argument as well. Lastly, he argued that he was entitled to qualified immunity. The lower court had already assessed that and found that a reasonable officer would have known that Nelson's statement was "dubious" and that the Stafford confession was potentially exculpatory. Therefore, NOT entitled to that particular legal protection.
The Court did 86 the punitive damages though, on the basis that G and H did not prove "actual malice." Hmmmmmmmm.